Tuesday 10 - 12
Thursday 14 - 16
as well as the second Saturday of the months
February, May and August 10 - 13
The following restrictions apply:
Only 1-2 people are admitted
hallway. Hand alcohol is available at the entrance.
Falster's regional history archive
Falsters Egnshistoriske Arkiv was established in 1913 and physically separated from the Museum Falsters Minder in 1948. The archive is a member of the Association of Local History Archives (SLA), Local History Archives in Southeast Denmark (LASA) and is part of archive collaboration with the archives in Guldborgsund municipality. The archive is run by Museum Lolland-Falster with the help of volunteer labor.
MAIN COLLECTION:
Archives from associations, businesses, and individuals.
Map of Lolland-Falster and Nykøbing F., photos, tapes and video.
The collections include personal archives with archives of a very different nature. These can be memoirs, letters, real estate papers, target books and much more that all tell about a person's life and work.
The archive also contains business archives with submissions from various shops and companies in the archive's area. Finally, there are association archives with material from disused and existing associations of a very different nature.
In addition to this, the archive contains large collections of photographs and a number of maps of Lolland-Falster and Nykøbing F. The archive has guides and telephone books in various periods between 1878 and until now, and there is a small collection of books on literature about Nykøbing F.
The archive collects material from Nykøbing F. parish.
Archive leader:
Thomas Bogtoft Møller
You Find Us Here
Frisegade 45
4800 Nykøbing F.
Reports from the Winter War 1978/1979
Reports from the Winter War on Lolland and Falster 1978/1979 are wanted
The Lolland Libraries are looking for stories and pictures from the Winter War on Lolland and Falster in 1978/79 for a new book publication.
When we on Lolland and Falster talk about the Winter War, it is not the Russo-Finnish war in 1939 that we think of first and foremost, but rather the snowstorm that hit our region in the winter of 1978/79. It was a centenary event that has not been seen before or since, and everyone who lived here at the time will be able to remember it. New generations and newcomers, on the other hand, may have a hard time imagining the consequences of the heavy snowfall.
At Nakskov Local History Archive, you often get inquiries about the Winter War. Here, the snowstorm is primarily documented in the image archive, but they miss some personal narrative. They have also thought that it might be helpful if they could refer to a book with both pictures and stories from the Winter War in some of the inquiries. In book form, there is already "The Winter War on Lolland-Falster", which Folketidende published immediately after the snowstorm in 1979, but it is primarily a picture report and only with the newspaper's own pictures. Many others have certainly taken good pictures in their immediate area, and many will be able to tell about fun experiences, challenges and difficulties with the snow masses, all of which could be exciting to collect and preserve for posterity.
In recent years, the Lolland Libraries have published a number of books based on memoirs. Nakskov Lokalhistoriske Arkiv therefore contacted us and presented their idea of ​​publishing a book about the Winter War. We immediately agreed to it, and we are also happy to help the archives get the Winter War sufficiently documented in the form of memories as well as photos and live images, if any should be included.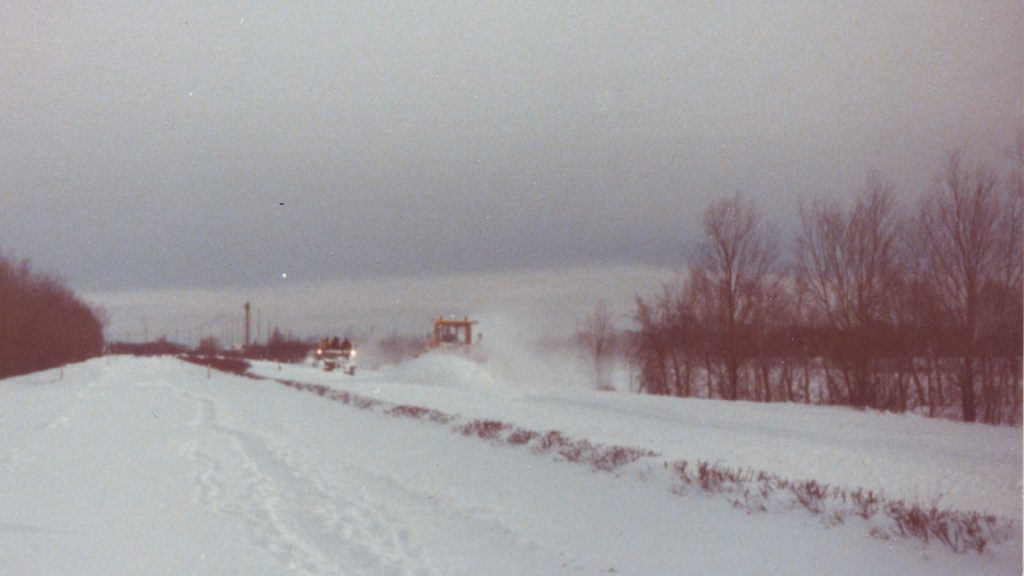 Tell us about your experiences during the Winter War
One must have reached a certain age to be able to remember the winter of 1978/79. It is, after all, forty-three years ago. But if you lived on Lolland or Falster at the time, the amounts of snow were so extreme that you hardly confuse your experiences from that winter with experiences during earlier or later winters. Should there be some who remember a particularly exciting or dramatic event, we would like to focus on it in the book, for example. by contacting others who were involved in the incident to get more angles on the story.
The collection of stories from the Winter War takes place in close collaboration with all the local history archives on Lolland and Falster, who will partly contribute with the story that is already in their collection, and partly they will ensure that all stories and pictures are preserved for posterity.
Contributions must be sent no later than 1 September 2022 to librarian Alfred Christensen either by email to alfch@lolland.dk or to LollandBibliotekerne, Søvej 8, 4900 Nakskov.
read more on www.lollandbib.dk/vinterkrigen.