About Museum Lolland-Falster
Museum Lolland-Falster was formed in 2009/10 by a merger of Lolland-Falster Stiftsmuseum Guldborgsund Museum and Reventlow-Museet Pederstrup.
The museum's administration is located in Nykøbing Falster.
The museum includes collections / exhibitions in:
Museum Obscurum in Nykøbing Falster
The Diocesan Museum in Maribo
The Old Houses in Maribo
Reventlow Museum Pederstrup in Horslunde
In addition:
Den Gamle Købmandshandel in Nykøbing Falster
The tourist information in Nykøbing Falster
Falster's Regional History Archive in Nykøbing Falster
The monastery ruins in Maribo
The museum's area of ​​responsibility covers the former Lolland-Falster Diocesan Museum and Guldborgsund Museum's areas and thus covers the whole of Lolland and Falster.
Museum Lolland-Falsters The board, cf. the museum's articles of association, consists of November 27, 2017 af syv board members, of which to municipally appointed (one member fra Guldborgsund and Lolland, respectively municipalities) and an employee-elected member, three: members elected of a selection panel on the basis of relevant competencies and a member elected by the board to supplement competencies:
Michael Fagerlund, chairman, provost of Falster provost (appointed by election panel, insight into economics, law and public management)
Contact Information: mfa@km.dk
Steffen Rasmussen, Deputy Chairman, politician (appointed by Lolland Municipality)
Bob Richard Nielsen, politician (appointed by Guldborgsund Municipality)
Alexandra Andersen Damgaard, museum inspector (appointed by the museum staff)
Flemming Jørgensen, Commercial Branch Director Nordea (appointed by the election panel, insight into finance, sales and financing)
Mette Rix, strategic communications consultant, landowner and food producer (appointed by election panel, insight into communication and marketing)
Carsten U. Larsen, former director of the Folketing and the National Museum (appointed by the rest of the board, insight into research, public management and foundation work)
BOARD MEETINGS
The Board of Directors holds four ordinary Board meetings annually. As a rulen in March, June, September and November.
The meetings are scheduled for one calendar year ad hallway.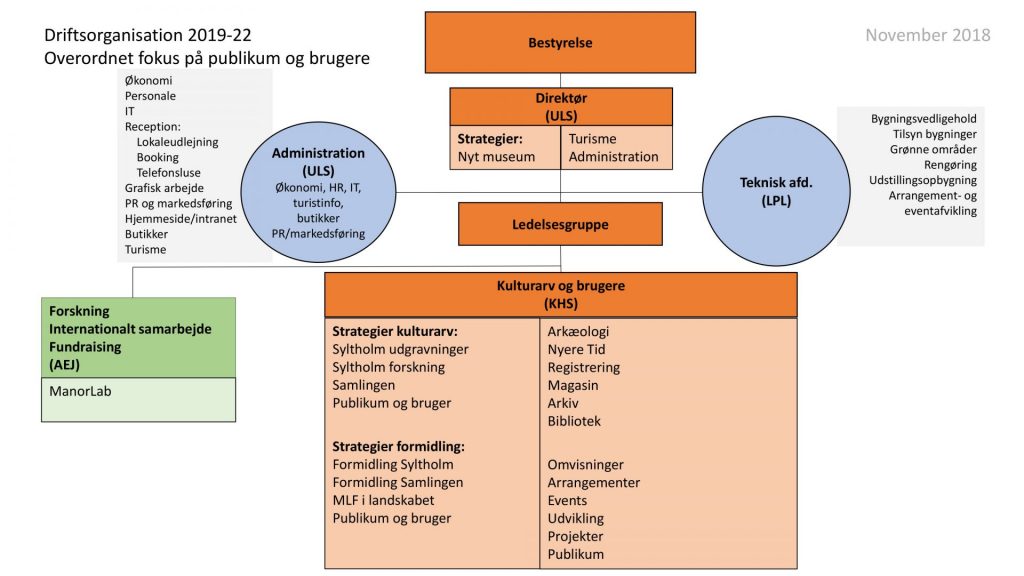 Articles of Association and Reports
Key figures and statistics
The museum's reports to Danish museums in numbers (The Danish Agency for Culture's statistical annual reports for state-recognized museums)
The union representatives work for the community, and are the link between employees and management. They represent the professional organizations in the workplace, and ensure that the agreements and arrangements are complied with.
The union representatives work to:
Promote a good and calm working environment
Ensure that the agreement and agreements are complied with
Align and represent colleagues' interests with management
Be involved in the company's development, including through participation in collaboration committees
Museum Lolland-Falster has two union representatives, who represent 3F and the Danish Master's Association, respectively. In addition, the museum has a spokesman for members of HK.
If you have any questions for Museum Lolland-Falster's shop stewards or the spokesperson, please feel free to contact them.
Spokesman, 3F
Martin Rosenkrans
5121 2507
Union representative, DM
Alexandra Andersen Damgaard
2559 3453
Spokesman, HK
Peter Wilcken Hacke
5121 2977